Do small businesses and sole proprietors even need a website anymore? Well, we think they're more important than ever to help you stand out from the noise online. So we're going to tell you why we think you do, and give you clear concise examples to back it up.
Local Site Benefit #1: Building a Strong Local Brand
Your local brand is everything. You've seen it in action for yourself, there is that ONE company that always comes up for your type of service. If you want a shot at becoming that ONE company one day, building your brand is key.
Familiarity
The first step in branding is consistent marketing, building familiarity. The more you put yourself out there, the more people will remember you.
Consider this, let's say you've put your business cards out, or put up fliers, or paid for an ad with your local chamber of commerce. Then your potential customer, we'll call her Jennifer needs your services. She goes on Google and searches "<your services> near me," she sees your name in search, and it feels familiar since she's seen your business cards, fliers, or ad. She clicks – you just earned her click by building familiarity.
This is what pushes customers to contact you, rarely do they remember your name, but they remember your look, and your branding. Your website can form the core of your online brand, by conveying your logo, brand colors, message and more in search engines. Then when they go searching your presence in search just speaks to them a bit more.
First Impressions are Everything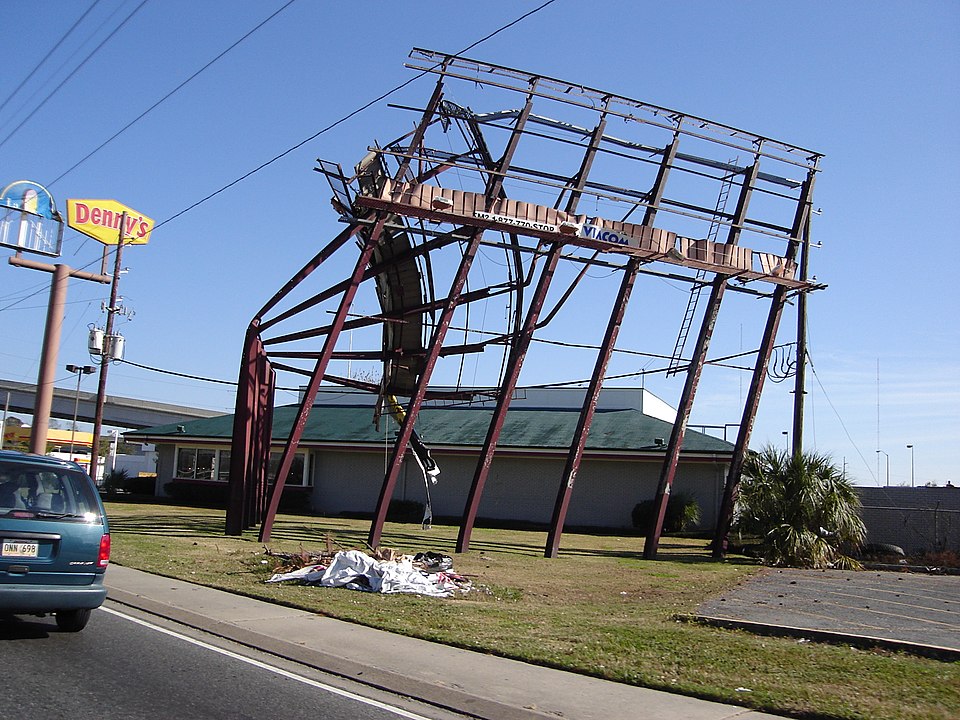 Most marketing channels are noisy, business cards get lost, Facebook posts disappear into the feed, billboards burn down (okay that's a little rare… but still). Your website is the one spot you get a bit of your potential customers undivided attention. You can make your best pitch in a couple of short paragraphs, and give a visitor a clear call-to-action like Contact Me.
Stand Out on Google My Business, Porch, Yelp, wherever you're listed
Here's something you can check to see what your competition is doing, go to Google and search "<your services> near me."
For example, below I searched personal trainers near me. You can see only 2 out of 6 results have websites, and those with websites get a callout that "their website mentions personal trainer." If you were looking to stand out as a personal trainer, having a website would do the trick here!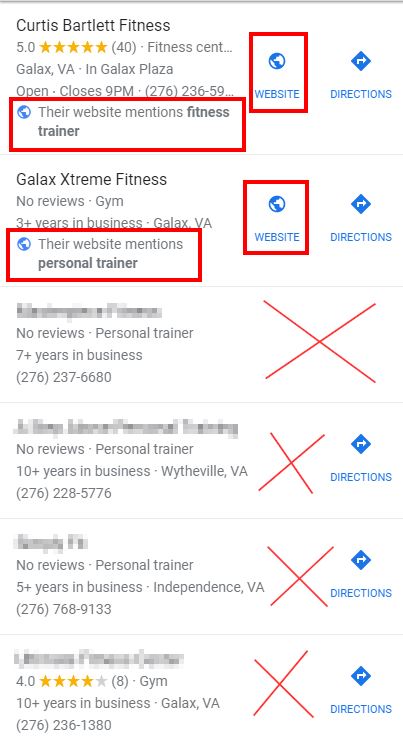 Sometimes you'll search and see that almost none of your competition has a website, having a website in that case is like having a spotlight on your business listing.
Make Your Call-To-Action
Websites are all about action, verbs like "Get This Deal," "Contact Us," "Pay Your Bill," "Ask a Question." The number of ways you can ask your visitors to directly engage with you is endless. You can even show your Google reviews on your site, and ask for more! "Review us!"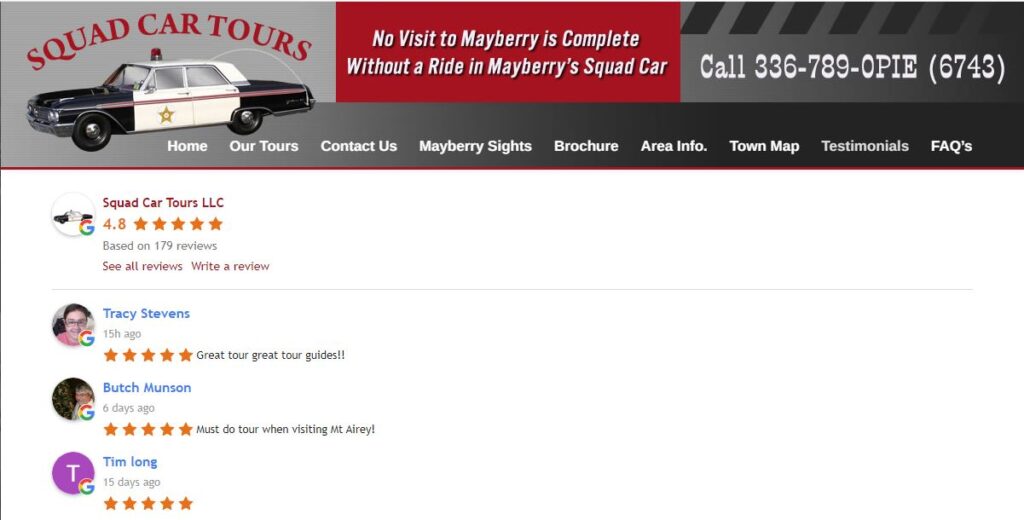 Basically, other marketing channels just don't offer the same ability to pair a strong pitch with a direct call-to-action for your prospects & customers. The only limit is your imagination.
Local Site Benefit #2: Local Search Presence
For most small or local businesses, appearing in local search is the most important thing. A website helps you appear in place-related searches and show your service area. Additionally, you can use a website to enhance your customer service by answering common questions.
Appear in Place-Related Searches
Search engines are getting smarter every day. Not just looking at the words you used to search, but also your intent. With searches like plumber, or personal trainer search engines can tell you have place-intent and will show you local results first. Having a website that is well optimized for local search will allow you to appear in these place-related searches.
This goes further as well, if I search for house painter galax va, search engines will often expand the results beyond where you're searching if there aren't enough results. Meaning that your business can get traffic from areas around you.
Answer Common Questions, Offer Great Customer Service.
Your prospects are used to having information at their fingertips. If your website can answer the most common questions you hear upfront. Then it shows that you're an expert, simplifies things for your customers, and saves you time on the phone.
Show Your Service Area
Your website can include a list or map showing exactly what areas you service. This can help you rank in search engines in those places or help your customers figure out if you can help them.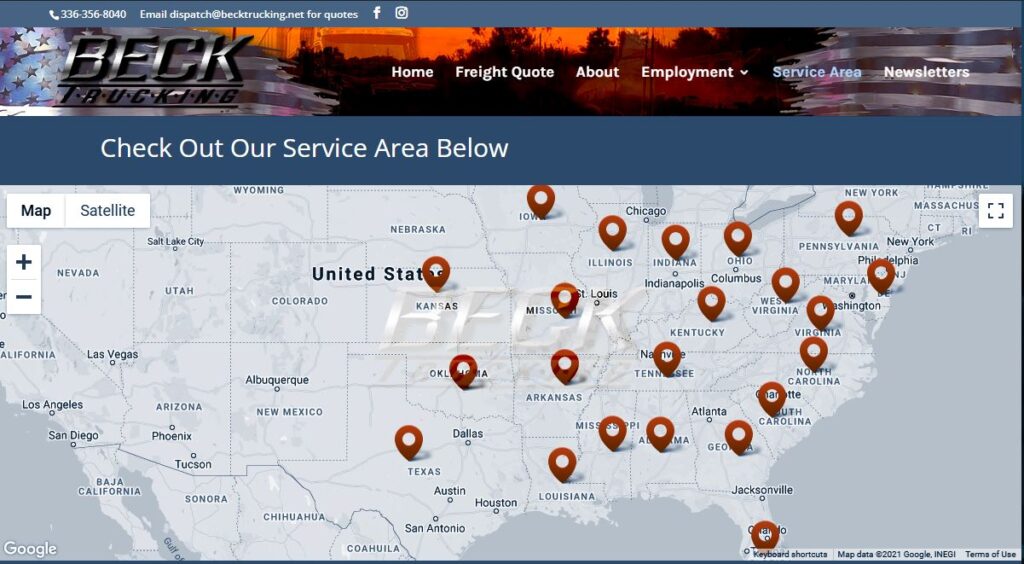 Furthermore, you can create pages for areas that you serve and include testimonials from the community, or pictures from projects you've done there. This adds a personal touch for searchers in the area you serve.
Local Site Benefit #3: Track Your Marketing Efforts
The final big benefit of having a website is analytics. Your website is the most information-rich source of data you have online. You can see exactly what visitors do on your site, where they come from, and whether the site is achieving your goals.
Example: Track How Social Media Benefits You.
We all use social media, but how valuable is traffic from social media? With analytics you can find out. In the example below, we see that traffic from social media tends to spend less time on this site.

Let's take this a step further, we can even track exactly what actions a visitor takes. Which can tell us what traffic actually leads to results. The below example shows that Facebook traffic tended to complete at least one goal 95% of the time.

Example: Track Offline Results
You can even track offline marketing results! All you need to do is create and place a special URL on your fliers, signs, or other touchpoints that you can check for in analytics. This can help you measure whether a given marketing channel is having results.
Example: Measure Your Networking Impact
Want to know if your business cards are working for you? Include a QR code and find out how many people you hand them out to end up researching you by counting the scans.
Your Local Site Is An Invaluable Investment
We've just scratched the surface here, but as you can see a website truly should be the centerpiece of your digital marketing efforts.
Having your site ensures you:
Make a great first impression when someone searches your name or services.
Stand out in your listings on Google My Business, Porch, and more.
Can be found more easily in local searches.
Can collect testimonials, email addresses, or provide special offers online.
Provide answers to common questions your customers might have.
Can show your service area.
Can track the impact of your other marketing efforts online or offline.
If you don't already have a website, we'd be happy to help you create one and can help with your online marketing plan, logo, branding, and much more. Just contact us.
Special offer!