Website Design & Development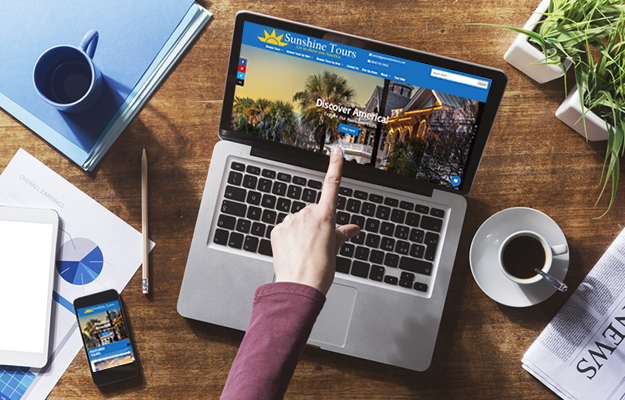 Websites are our specialty. When we create a website for you, you're not just getting a "cookie-cutter" website.
–Search engines hate generic websites– We craft a website that has a unique look for you, make sure it's easy & logical to navigate, work with you to flesh out content, and do the behind-the-scenes magic that help it out-perform others in search.
Plus!
You can update the website on your own. We train you on using our visual builder system to make changes. You're not locked-in & paying for every change.
We use standardized tools & techniques. We don't believe in using flaky website systems. They tend to become unsupported & have security issues. We use tried & tested CMS software and make sure any extensions have long-term support.
We handle the updates & backups. Never worry about updating the software running your website. We do it for you.
Website Creation Packages
Our website packages offer great value! You get a custom-designed mobile-friendly website that you can change on your own, and we use our proven processes to set your website up for success.
Special Pricing: $300 one-time & $30 / mo.
This plan is perfect for someone who is just starting out: We help you find the perfect domain, build you a custom-designed single-page website, optimize it for search engines, set you up a forwarding email address, and then provide you a login & manual on how to make changes and add to it as needed.
Benefits:
Look professional: Stand out from the crowd with a sleek & professional website. We'll help you find the perfect domain name and you get a branded email forward: info@yourdomain.com.
Build your reputation: The longer your website & domain is around, the better you'll rank versus new competition. So this helps you get in the game on search engines early.
Put your website everywhere: Whenever you get business cards, run advertisements, or do other kinds of marketing, you get better results by including your website.
Share your story & get followers: Use your website as a blog to share your story & show your growth, and encourage visitors to follow you on social media.
Get leads: The contact form on your website is easy to use, which helps you get more leads, faster.
Fast turnaround time: We can usually have your website done in 1 - 3 business days. (Subject to availability)
Price: $950
Do you have a website that needs a refresh? Maybe the design is out of date, or it's not mobile friendly, or you just want something new? We can help! We will create you a new design and move your existing content & photos over. As well, if you have new content or photos, we can bring those in too! Plus we will refresh your search engine optimization as well!*
Benefits:
Generate buzz: Your newly redesigned site is a great opportunity to reach out to customers. Show off your new design, give out a few special discounts, and direct folks to follow you on social media or sign up for email.
Update your brand: Maybe you have a new logo, or a new name? Make sure your website reflects that.
Clean up: Old and out-of-date information can make  your existing website a pain to use. A redesign lets you clean up.
New SEO: Search engine optimization practices are always changing. We will do a fresh round of research to make sure your site is still doing its best to rank.
More secure: If the software on your website is out of date, it may cause your website to have security holes & issues, a new website patches these issues, and we keep your software up-to-date.
*Offer limited to up to 8 pages from existing site & up to 4 hours of data entry. For larger sites, please contact us for a quote.
Price: $600
Get a social media driven website. This type of website is super-easy to update. All you need is a Facebook page and/or an Instagram profile. Then the content on your home page is dynamically driven by what you post on social media. The options here are endless. You could use your Facebook feed for news & offers, and an Instagram feed for your portfolio. You can also add in other pages with static content, like a contact page / form, an about page, etc.*
Benefits:
Easy to Update: Just post on social media, it couldn't be simpler!
Blog Ready: If you're ready to move off of social media and do long-form posts, you can easily add a blog to this offering.
Perfect for Creative Businesses: Are you a content creator, artist, or craftsman? This type of website allows you to share your latest works easily to show off to customers.
Provides a Hub for your Brand: Social media platforms change and grow, "the algorithm" determines who sees your posts. This type of website allows you to create your own nexus online, where fans & followers can find you, and can be a great sales tool. You can easily pull up your portfolio for a client while staying on your branded website.
*Offer limited to up to 4 pages on site.
Price: Starts at $1500
Do you have a new or existing business that needs everything? A logo, website, social media presence, content development, and search engine research? Our brand creation package provides you a launching point for your online brand.
Benefits:
Consistent Brand & Message: We handle everything, so nothing feels out of place.
Professional Logo Design: We will create you a stunning & modern logo.
Storytelling: We work with you to develop your brand story, the unique messaging you will use to connect & appeal to customers.
Content development: We'll save you the hassle of updating the website & social media yourself. For a reasonable monthly fee, we will manage it for you.
Contact us at info@pronetsweb.com or call 276-236-8226 x 1007.
Completely Custom Websites
If you have a unique business need, or feel that the above packages don't quite fit you. We can quote creating something completely custom. Just contact us or use the form below.
Get a Free Consultation & Marketing Plan.